Industry News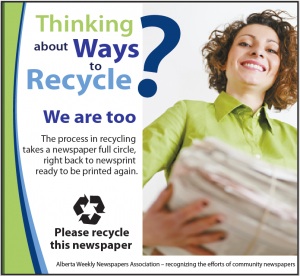 The AWNA has consulted with industry and member newspapers on recycling efforts of newspapers throughout the province.

This is a proactive approach by the AWNA Board to counter possible government-imposed advertising campaigns experienced in other provinces. Although the Alberta government hasn't expressed a desire for mandatory messages, it's aware of imposed efforts elsewhere.

Results of the recycling consultation have been distilled into a number of advertisements promoting the benefits of recycling newspapers.
Links to other sites and industry associations

Newspapers Canada › Advocacy group for publishers of daily newspapers in Canada. A resource for the people who publish and work for newspapers.
AdWest Marketing Inc. is a joint initiative of not-for-profit community newspapers associations on the prairies, operating as the dedicated research and planning support bureau for the industry.
Community Media Canada is the advertising and promotional arm of the Canadian community newspaper industry.
Association | Industry Links | News Service | General Interest
Provincial and National Association Websites
Canadian Community Newspapers Association
British Columbia and Yukon Community Newspapers Association
Saskatchewan Weekly Newspapers Association
Manitoba Community Newspapers Association
Ontario Community Newspapers Association
Quebec Community Newspapers Association
Atlantic Community Newspapers Association
International Newspaper Association Websites
Alabama Press Association
Arizona Newspaper Association
Arkansas Press Association
California Newspaper Publishers Association
Colorado Press Association
Florida Press Association
Georgia Press Association
Hoosier State Press Association
Illinois Press Association
Inland Press Association
Idaho Newspaper Association
Iowa Newspaper Association
Kansas Press Association
Kentucky Press Association
Louisiana Press Association
Michigan Press Association
Minnesota Newspaper Association
Missouri Press Association
Montana Newspaper Association
Nebraska Press Association
New England Newspaper Association
New England Press Association
New Jersey Press Association
New York Newspaper Publishers Association
New York Press Association
North Carolina Press Association
North Dakota Newspaper Association
Ohio Newspaper Association
Oklahoma Press Association
Oregon Newspaper Publishers Association
Pennsylvania News Media Association
Society for News Design
South Carolina Press Association
South Dakota Newspaper Association
Southern Newspaper Publishers Association
Tennessee Press Association
Texas Press Association
Utah Press Association
Virginia Press Association
Washington Newspaper Association
West Virgina Press Association
Wisconsin Newspaper Association
Wyoming Press Association
---
Industry Links and Affiliated Association Websites
Adnews Online
ABC - Audit Bureau of Circulations
Alberta Motor Association (AMA)
Government of Canada
Government of Alberta, Canada
International Newspaper Marketing Association
Marketing Magazine
---
News Service Links
CBC TV and Radio
CNN
CP Wire
Newslink
Newspapers On-Line
Sun Newspapers/Canoe
---
Links of General Interest
<! -------- Eof Page Content --------->